Lesptitsloups.tv is a community effort born in France from the clear need to dedramatize current circumstances and illustrate the mains rules of hygiene and social distancing to children, as life and schools gradually resume back to normal life, offering them a simple, fun and educational approach.
Entitled « Those rules to remember... to protect myself and the others », the campaign is aimed at pre-school and primary school children and is directed by Alexandre Charlet & Madjid Chamekh, inspired by the illustrations of Cœur d'Artiflo which were shared well over 120 000 times over social media in France and around the world.
In order to successfully accomplish this task, our French production company Les Films du Cygne teamed up with two animation studios, InTheBox in Annecy and Le Studio Animation in Marseille, to bring to life this series of very short animation films.
These illustrations and films are fantastic educational tools which are freely available for streaming and downloading on the website : Lesptitsloups.tv (French & English versions), but also on social media (Facebook, Instagram, Twitter...), and accessible to all those who may need them (schools, day nurseries, teachers or parents associations...) In addition, a complete kit is downloadable and includes illustrations, animation videos and bonuses (between coloring, and other illustrations of Coeur d'Artiflo). This kit is available for free on June 22th, in 10 languages.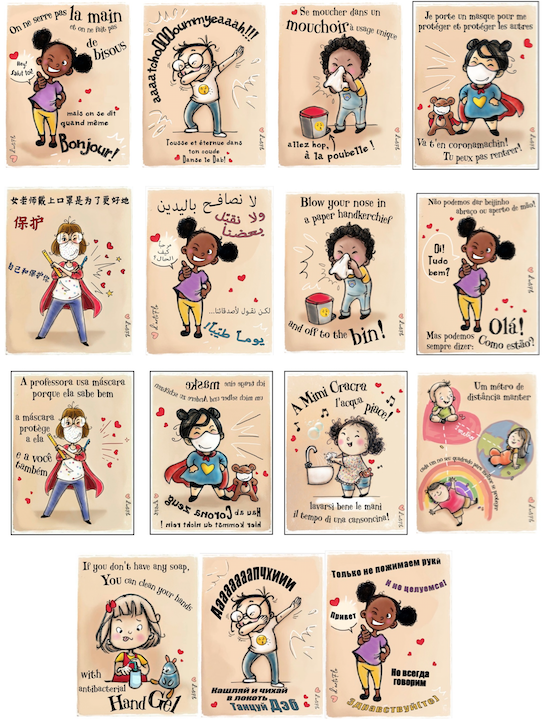 UNESCO supports this citizen action by disseminating these kits on their websites, in particular the one dedicated to the Covid among the educational resources available, throughout their network of associated schools (12 500 worldwide), by sharing this content with their sister agencies of the United Nations, with their Ambassadors and obviously on their social networks.
Despite the support of the cities of Annecy, International capital of Animation, Saint-Mande near Paris, Auvergne-Rhône-Alpes Cinéma, and many contributors from our crowdfunding campaign on KissKissBankBank, this project remains partly self -produced. That's why we are looking for new partners.
In order to continue supporting this project, and particularly towards the international level, the crowdfunding campaign continues at : https://www.kisskissbankbank.com/en/projects/les-gestes-barrieres. 10 days left!