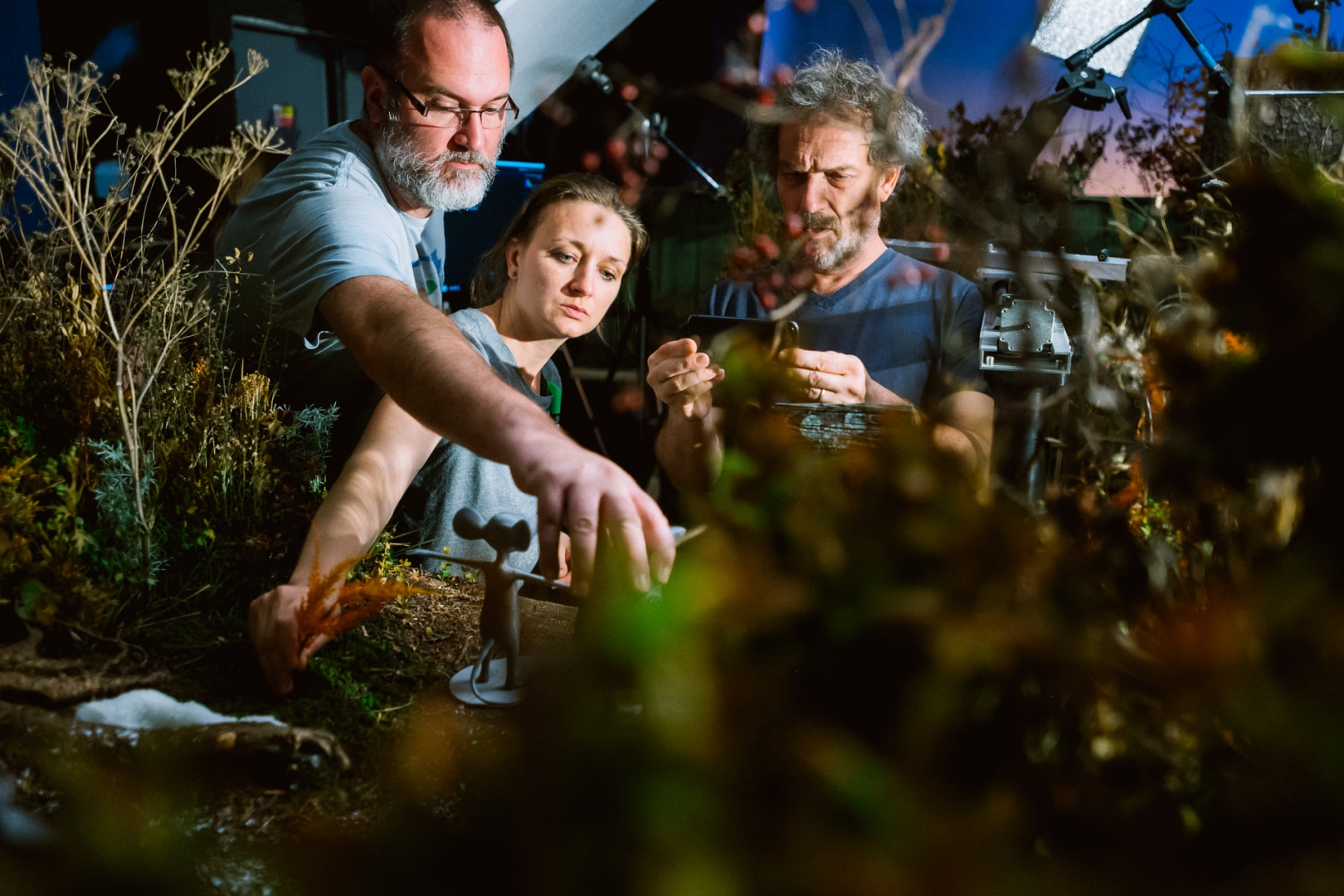 Jan Bubeniček, Denisa Grimmová and Radek Loukota (chief operator) on set !
Denisa Grimmová
Director & designer
Denisa is an animated film director specialized in 2D and stop-motion. She has directed several successful short films and has worked as chief set designer, on the stop-motion feature film The King's Gardener, for which she was nominated for a Czech Lion.
Filmography :
Artistic Direction :
2011 – The gardener who wanted to be king
Director :
2010 – Czech Pexeso (mixed media)
2006 – On a park bench (puppets)
2003 – The Stork (2D)
2002 – The Hiccup (2D)
"What I like about this story is that it deals with problems common to all children, such as fear. Everyone experiences it at a different level or intensity, but everyone has to deal with it. Just like death and friendship, which are issues that we find from a very young age. Another very important theme is prejudice. Whizzy has always believed that foxes were bad and that she could never be friends with them. But in this parallel world that is Paradise, where we can no longer eat others, where we are free from our natural instincts, she discovers similarities with this fox. They both love the same things, and see many things in the same way. It's a film that says that sometimes it's important to shake up the established order, whether it's natural or not."


Jan Bubeníček
Director & technical designer
Jan studied in the workshop of Břetislav Pojar at the FAMU Film School in Prague. He also participated in the workshops of Skintoku Festival, Kobe Animation Festival, Kyoto University of Art and Design and Yamagata Film School as a trainer. His film Tri Fuové was selected for Kodak's New European Talents in Cannes.
Filmography :
2016 – Smrtelné Historky (feature film)
2002 – Pirát (19'21, Stop motion) Best animation IFF Karlovy Vary, Best director Dahlonega IFF
2000 - Tri Fuové (8'53) - Kodak Cannes Selection
1998 – Lewis's Watch (8'58) - Anifest Special Mention
"It's also a film about love and self-actualization. Our little mouse, Whizzy, who struggles to find a lost love, his father who disappeared too soon because of a bad fox, must forget his fears. And in this adventure, she crosses the path of another fragile being, Whitebelly, a young fox in search of love too, and who will do everything to win his love and trust."